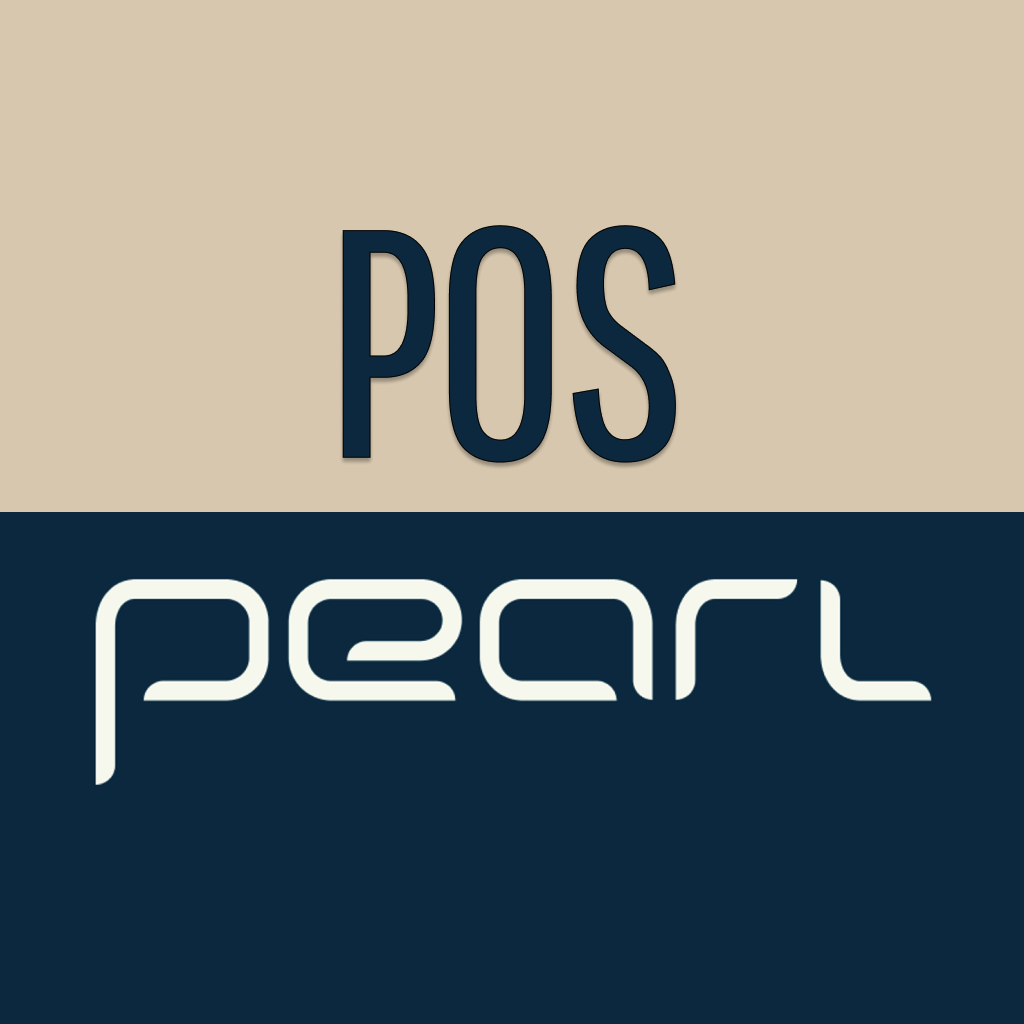 Pearl POS
A point-of-sales solution designed for SAP, transforming complex business processes into simple POS operations.
View pricing
Category

Point-Of-Sales

Works with

SAP ECC & SAP S/4HANA

Solution type

iOS Application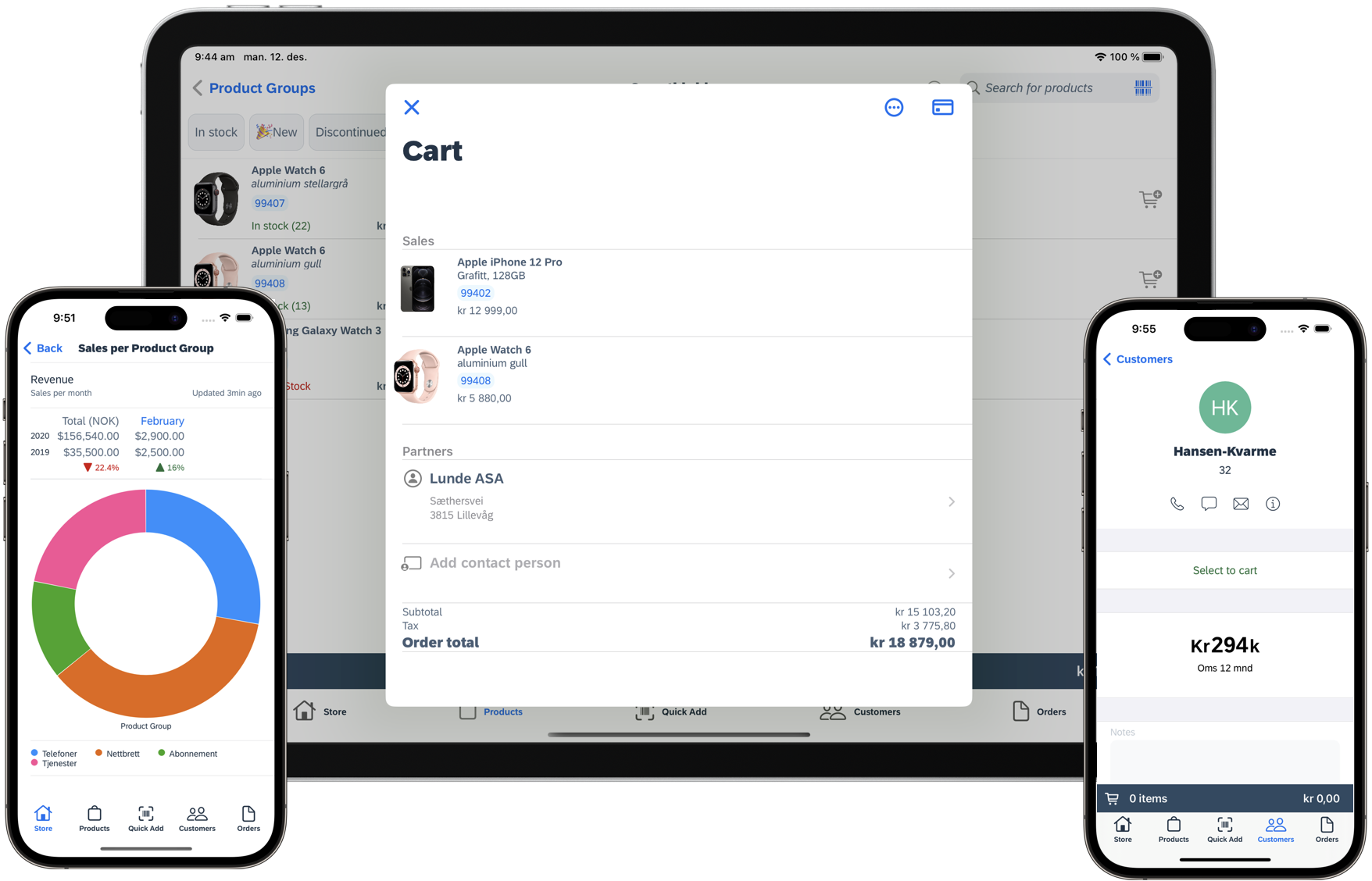 Transform your business into a completely mobile store with our native iOS solution that has a Fiori user interface that is intuitive and familiar to all users.
SAP made simple

While we really believe that POS should be simple, our experience over many years is that most POS systems have a too simple data model which limits our customers use of SAP as backend. That's why we have built a complex solution that supports the SAP data model while still being as simple as POS should be!

Built with SAP BTP

We have build our solution on SAP Business Technology Platform and SAP's iOS SDK, leveraging mobile services for authentication, security, offline synchronization, push messages and delta handling.

Occasional offline

With ERP systems in the Cloud and POS on a mobile device, being completely offline is a rare occurence. However, while we rely on an online SAP connection for certain information like credit exposure and stock levels, most entities are still synced to the device and stored locally in case of an network outage.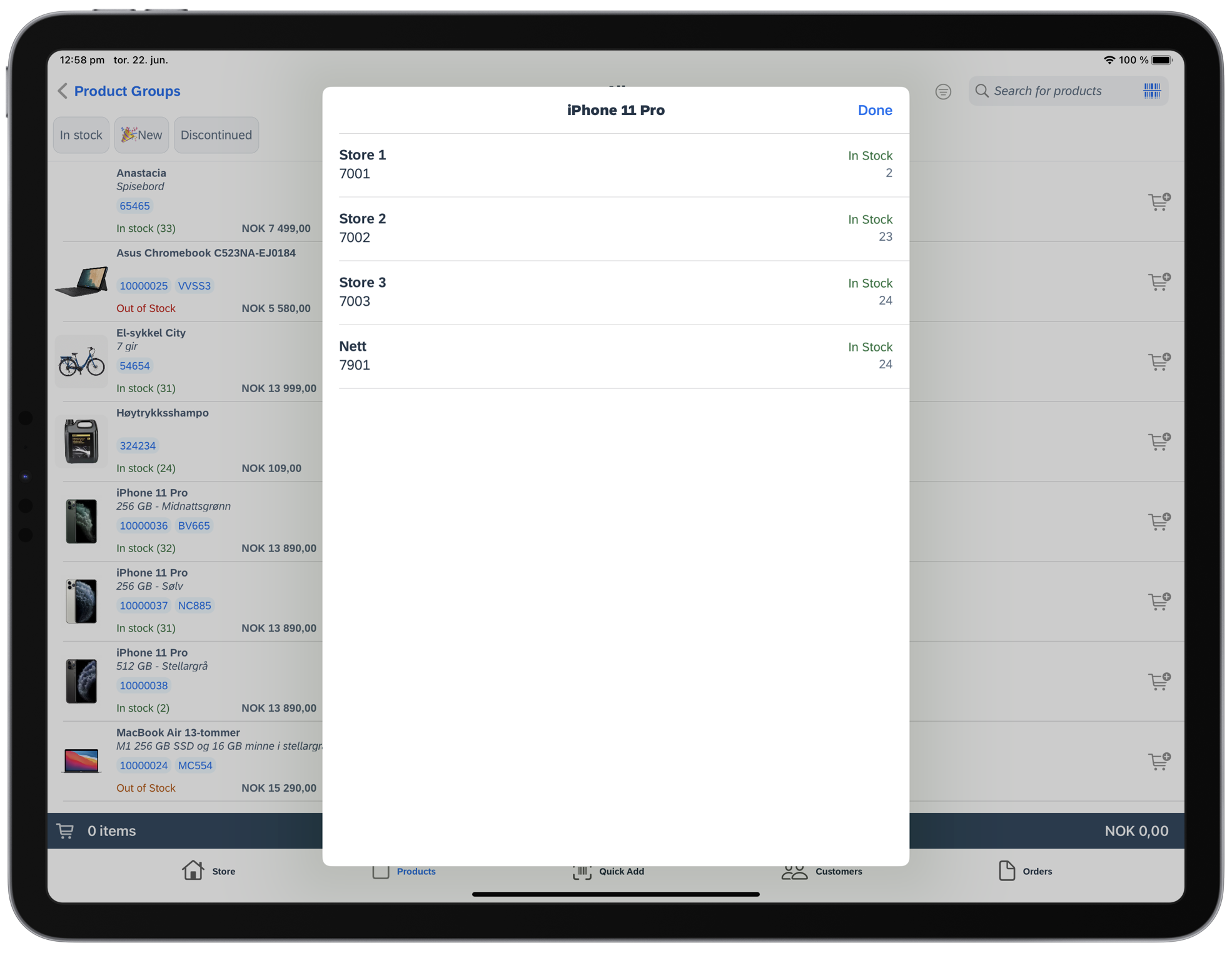 Stock & Product overview
Browse or search for products by a vast list of attributes. Sort and filter and view prices at a glance. Tap to view stock overview or slide to add item to cart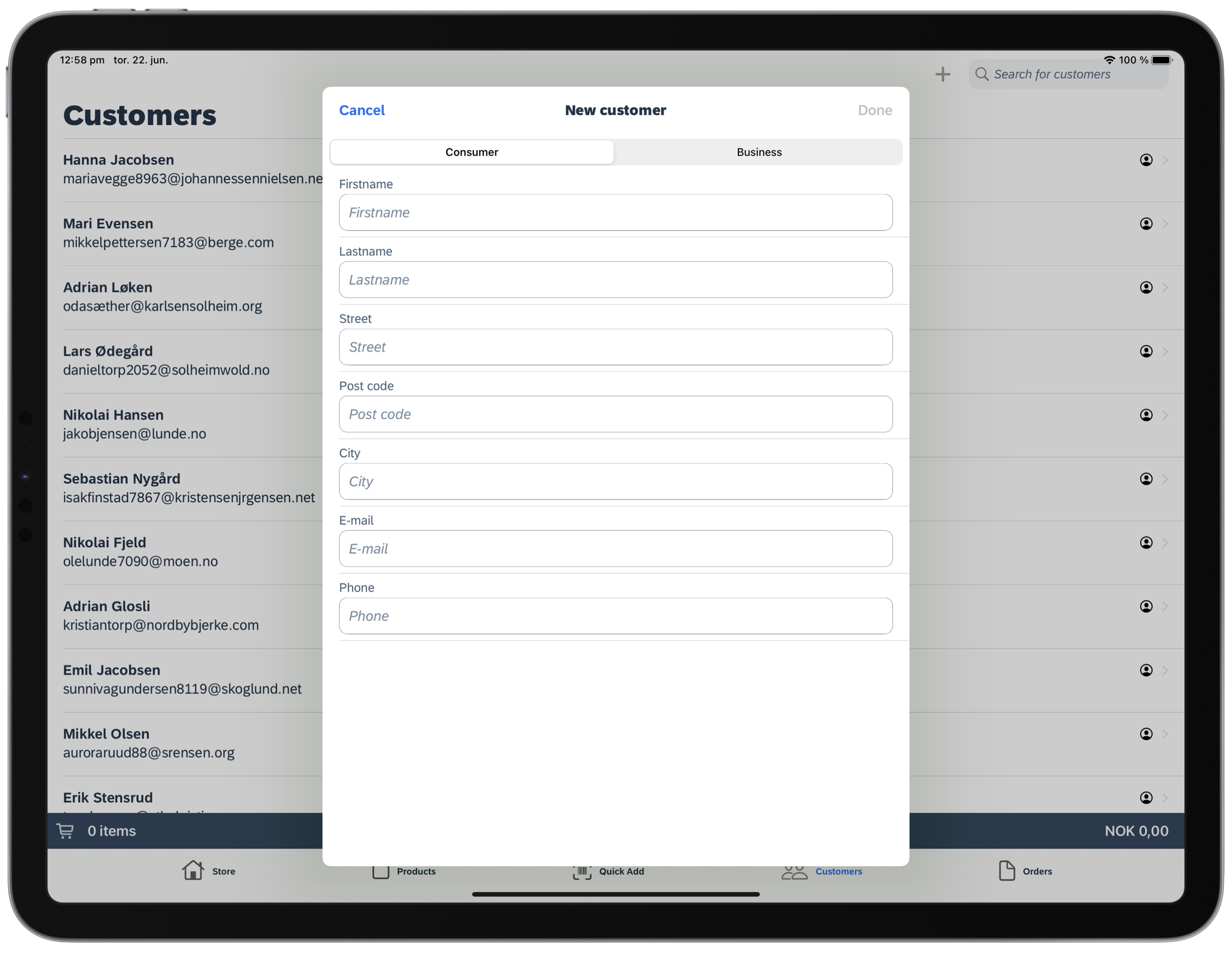 360 view of customers
"\"\\\" \\n \n
Browse or search for customer, or add a new one. Customers can be added both manually or from third party services. For business customers you can also add or edit both Ship-to parties and contact persons.
\\\\n \\n \n
From the customer view you can view attributes, credit limits, notes and partners.
\\\\n \\n \n
The 360 view also includes a list of orders and receipts and previously purchased products, as well as customer sales statistics
\\\\n \\n \n
GDPR: All customer references are finctional
\\\"\""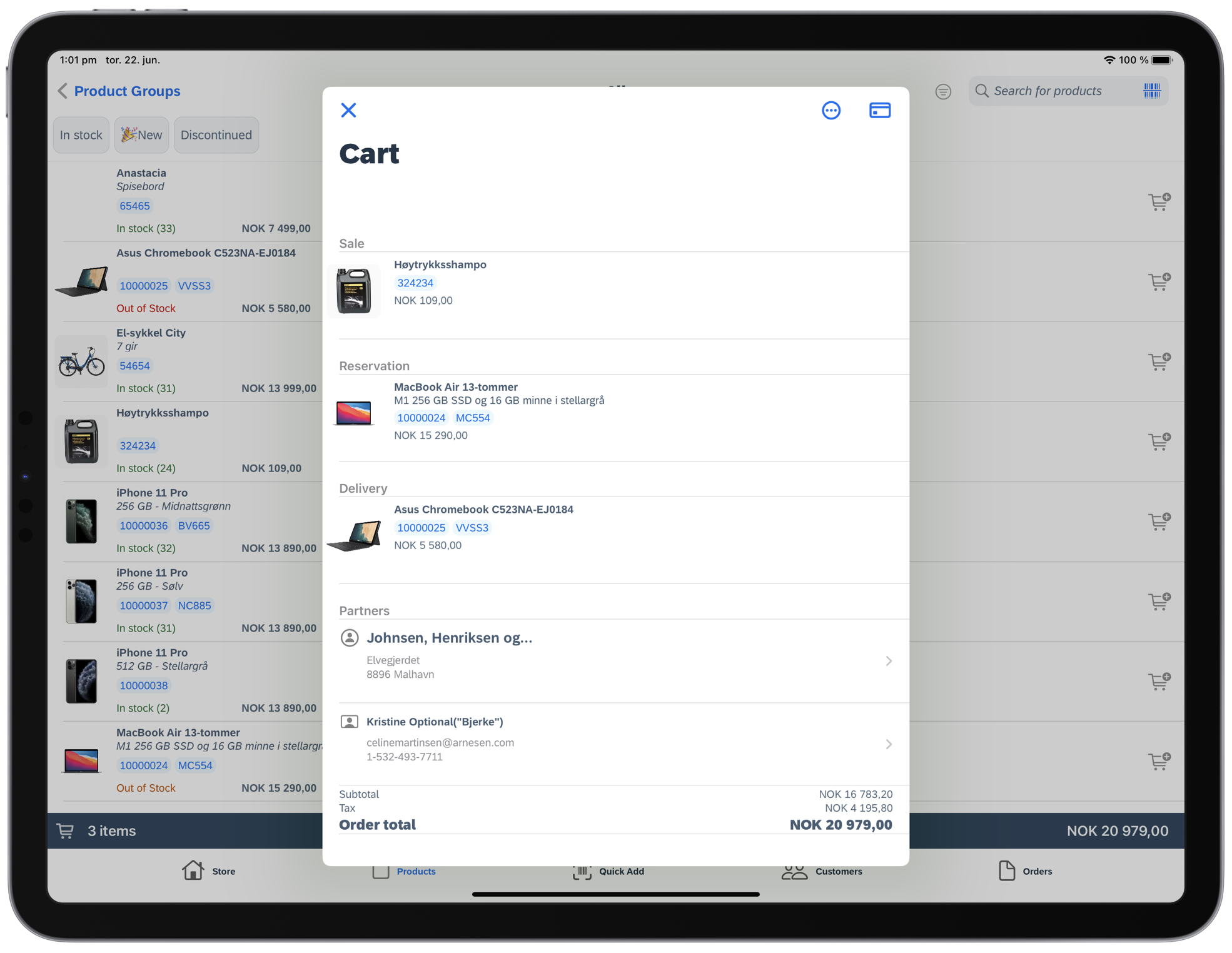 Powerful cart
"\"\\\" \\n \n
\n \\n \\\\n \\n \n
Combine different order/item types in a single cart for one unified checkout.
\\\\n \\n \n
Add customer, ship-to party and contact person and scan serial number for serialized items.
\\\\n \\n \n
Apply discounts and notes
\\\\n \\n \n
Assign item as reservation in another store
\\\\n \\n \n
Split payment and capture signatures
\\\\n\\n\n
\\\"\""
Supported hardware
"\"\\\" \\n \n
\n \\n \\\\n \\n \n
Any iOS device (v. n-1)
\\\\n \\n \n
Star Micronics receipt printer & cash drawer
\\\\n \\n \n
Zebra BT barcode scanner
\\\\n \\n \n
Nets Connect@Cloud enabled payment terminals
\\\\n\\n\n
\\\"\""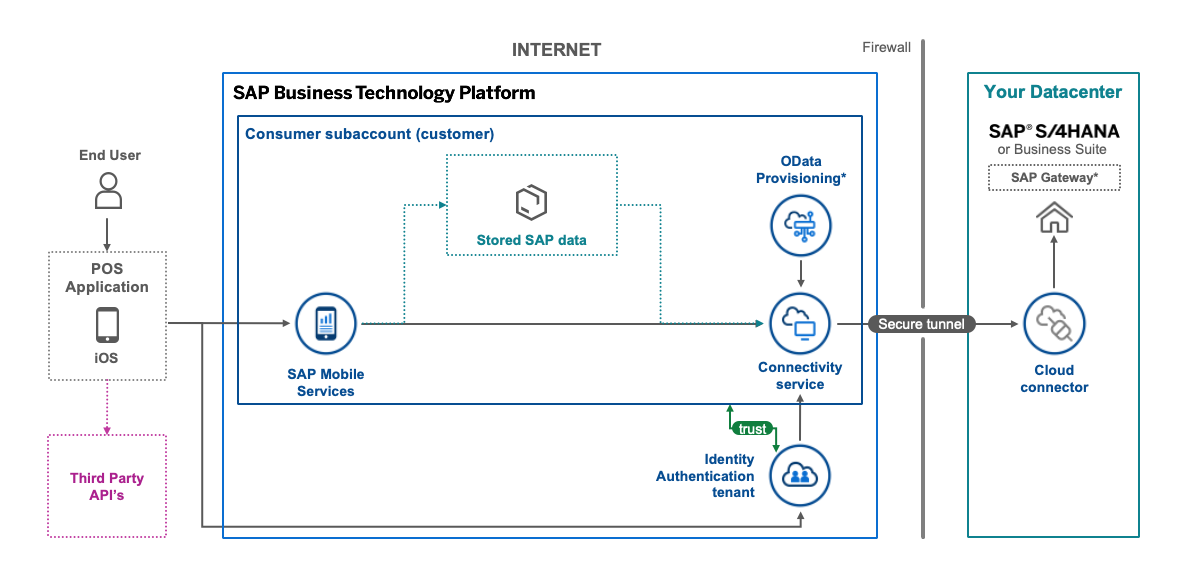 Plans and pricing
| | Demo | Standard |
| --- | --- | --- |
| Installation in ERP, provisioning SAP BTP, Cloud connection | | |
| Apple Enterprise distribution of app | | |
| Training and documentation | | |
| Continuous development and new features added, incl. standard SAP implementation | | |
| Scandit Barcode license | | Optional |
| Contract duration | 1 day | 12 months |
| Price (per receipt item) | | Price upon request |
Installation in ERP, provisioning SAP BTP, Cloud connection
Apple Enterprise distribution of app
Training and documentation
Continuous development and new features added, incl. standard SAP implementation
Installation in ERP, provisioning SAP BTP, Cloud connection
Apple Enterprise distribution of app
Training and documentation
Continuous development and new features added, incl. standard SAP implementation
Scandit Barcode license

Optional
Contract duration

12 months
Price (per receipt item)

Price upon request
Contact us or request a demo