Komplett Group is the largest online retailer in the Nordic region with a total of 18 online stores. The head office is located in Sandefjord and the group has 750 employees.

Komplett Group wished to combine Norwegian robot storage with SAP Extended Warehouse Management (EWM). In order to
meet growing demands for efficiency of operation and new business ventures
optimize the picking process
facilitate an increasing quantity of orders
Pearl Group has more than 10 consultants who are highly skilled within SAP EWM. The close cooperation with Komplett and SAP has been a critical success factor in the implementation of one of Scandinavia's most modern inventory management systems.
1) MEET GROWING DEMANDS
An important element of Komplett's implementation of SAP EWM is the integration with AutoStore, a robotized warehouse solution developed by the Norwegian company Hatteland Logistics and delivered and implemented by Element Logic AS. AutoStore provides fast and automated retrieval of goods from stock, ensuring that the most requested items are placed readily available in order to minimize retrieval time. Compared with warehouses that require a truck, space requirements are reduced by up to 60 percent for the same usable inventory volume.
Komplett Group has used SAP's ERP solution since 2003. In 2009, the company chose to switch to SAP EWM rather than to continue to upgrade its current stock management solution.
Now, in order to meet growing demands for efficiency of operation and new business ventures, Komplett Group has expanded their warehouse in Sandefjord, along with implementing two new Material Conveyor systems, with a successful Go‐Live of the first phase of the project.
(The story continues below the picture.)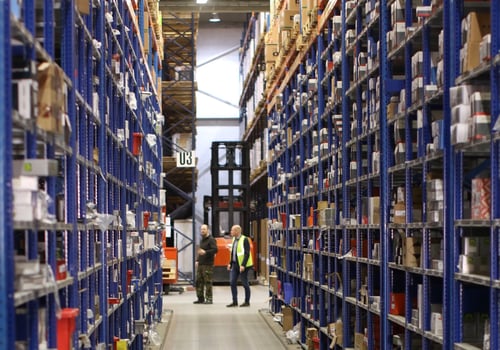 2) OPTIMIZE THE PICKING PROCESS – first phase

The first phase of the project was to set up the two new conveyors and to redirect the flow of goods through the new building which connects the warehouses, where one conveyor handles storage bins to and from the AutoStore installation, while the other conveyor handles flow of outbound goods.
Requirement:
To get around the limitations of traditional ports when performing put‐away of goods into the AutoStore storage system, the requirement was to build a conveyor system for storage bins in and out of the AutoStore grid using custom ports and delivery of storage bins directly to a conveyor.
This allows warehouse workers to take an empty storage bin from the waiting empty storage bins on the conveyor, and to place the storage bin on the conveyor to be sent back to grid, without having to wait for AutoStore robots to place or retrieve bins in traditional ports.
Solution:
To solve this, Pearl EWM consultants integrated the material conveyor with the Material Flow System component of EWM and the Autostore HTTP Interface, which allowed the material conveyor to control the ports of the AutoStore installation and trigger delivery or retrieval of storage bins. A new SAP Fiori app was developed to facilitate the put‐away process.
An automated "deviations checkpoint" was added to the conveyor to be able to handle storage bins that would fail in the inbound port because of overfilling/too much weight, etc.
(The story continues below the picture.)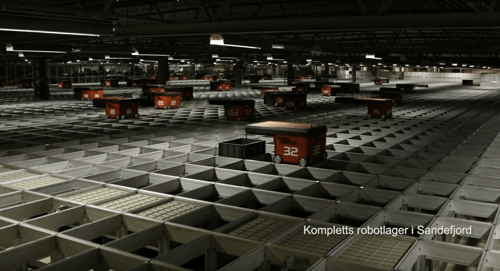 Komplett Group combines robot storage with SAP EWM

3) FACILITATE A GROWING QUANTITY OF ORDERS – second phase
The second phase will add a pick‐to‐belt solution to the new outbound material conveyor for prepacked goods. Warehouse product slotting will be implemented to optimize the picking process by placing the most frequently sold goods near the pick‐to‐belt conveyor. The existing pick‐by‐voice solution will also be extended to this zone.
Requirement:
To facilitate a growing quantity of orders, the requirement was to build a new material conveyor to handle an increased flow of goods, which could handle picked goods from both the prepacked zone warehouse, as well as goods from the AutoStore warehouse (both in Sandefjord).

This meant going from one single scanner point and 12 chutes with an overflow chute to one new conveyor with 4 scanner points, 15 chutes and a loop.
The new conveyor allows for picking goods from AutoStore without having to pack goods into packaging materials for shipping, provided the product packaging itself is suitable for shipping and it also supports the rather sizable packaging used by PC. Production for custom made PCs which were transported manually.
Solution:
To solve this, the material conveyor was integrated with the Material Flow System component of SAP EWM and a new layout oriented storage control was set up to route Handling Units on the conveyor to their final destination chute.


LET US TRANSFORM YOUR WAREHOUSE MANAGEMENT
Pearl Group´s experience with implementing EWM at Komplett clearly demonstrates our leading expertise within EWM and logistics. Pearl`s team will help you bring new levels of integration, operation, automation, efficiency, and service flexibility to your business. With this release, embedded EWM is a default offering, but traditional WM is also available. However, the life-span of traditional WM is limited to end of 2025.
Contact us:
Please contact us if you want to know more about decentralized EWM, currently in use at Komplett Group, or EWM embedded in S/4HANA.

Elin Sterner
Team Lead for ERP & Analytics Knowledge Management
tel +47 45 66 23 45
or
Bernhard H. Olsen
Managing Director Pearl Norway
tel +47 95 70 60 42